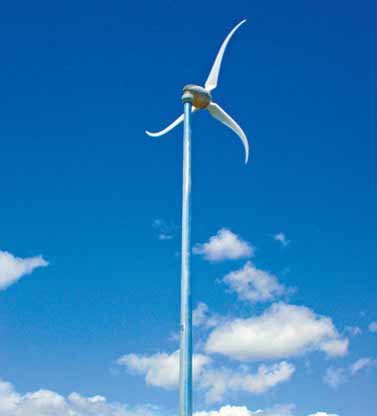 Our latest effort, the Skystream 3.7, was developed jointly with the U.S. Department of Energy. It's the first compact, user-friendly, all-in-one wind generator designed to be used with utility-connected homes and businesses. Quiet, inexpensive energy is closer than you think.
At least 10 MPH average wind speed (best results at 12 MPH or more)
Your property is greater than .5 acre and is unobstructed
The local zoning allows a structure that is at least 42′ tall
Certification:
UL
(US & Canada)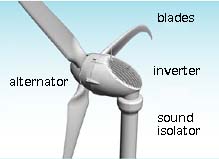 Rated Capacity:
1.8 KW

Rotor:
12 feet (3.72 m); 50-325 RPM

Interconnection:
Utility connected or battery charging

Alternator:
Gearless, perm. magnet brushless

Voltage Output:
240 VAC (Optional 208 VAC)

Estimated Energy Production:
400 KWh per month at 12 MPH (5.4 m/s)

Weight:
170 pounds (77 kg)

Tower:
Towers from 34-70 feet (10.4-21.3 m) are available; height is dependent by site

Warranty: Five year limited
Availability: Skystream is available now in North American grid (220V/60HZ), marine and battery charging versions. An international configuration (50HZ) will be available in the second quarter of 2007.
Product Brochure:
Skystream 3.7 brochure (PDF)
Technical Specifications:
Skystream 3.7 Spec Sheet (PDF)
Installation & Operation:
Owner�s Manual (PDF)
Back to top